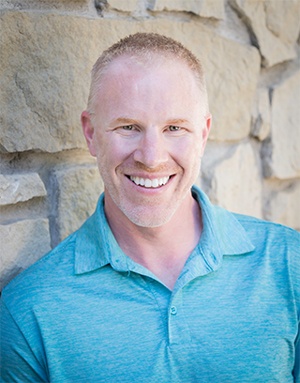 James Luderitz, DDS, MS, and Diplomate, ABDSM 
Dr. Luderitz grew up in Baker, Montana, where he pursued his love of science, cars and the outdoors. While attending MSU Billings, he enjoyed rock climbing in Montana and Wyoming, working as a weight trainer, and playing lots of tennis. Dr. Ludertiz has four wonderful children: Tyler, Mikayla, Zach and Sydney. When time permits, Dr. Ludertiz enjoys golfing, construction, cycling, and working on old muscle cars. He indulges his love of the outdoors with golf, rock climbing, cycling and backpacking. Most of all he enjoys time with his kids in this beautiful state that we call home.
Dr. Luderitz graduated from Montana State University Billings in 1995, where he majored in biology and minored in chemistry. He received his Doctor of Dental Surgery degree in 2001 from the University of Minnesota. Following Dental School, he continued to further his education by completing a two-year Masters program in advanced clinical training, specializing in temporomandibular disorder, orofacial pain and sleep, also from the University of Minnesota. He is a member of the American Dental Association, Ninth District Dental Society, and American Academy of Orofacial Pain.
Doctor Luderitz says,"I went into TMD and orofacial pain because I enjoy problem solving and the science of medicine. I have taken many art classes from high school through college and have found that dentistry is a great way to express art. Every one of my patients has unique stories and interests, and I enjoy getting to know them and helping improve their oral and physical health."